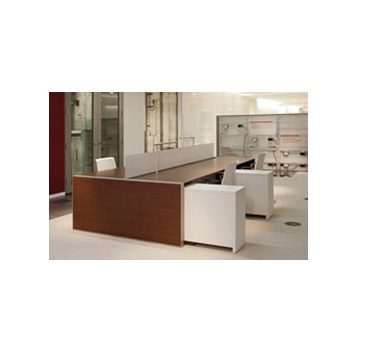 Designed to meet the needs of today's mobile teams and support the growing trend around distributed work, the Compose benching solution reinforces group collaboration, support teaming – while offering variety and integration.
Designer: Bob Wayner
The new Compose desking product, with a specific focus on benching, includes a 29" high panel, power routing and access below the work surface, a frameless glass topper, wood trim components and knife edge work surfaces.
The addition of a 29" panel height allows Compose to be arranged in both benching configuration as well as other desking applications. The top trim of the panel lines up with the tops of work surfaces providing a simple, clean aesthetic. This panel height provides power and data routing below the work surface and at base locations. In addition, this application introduces new 3-way tile spanning kit to eliminate reveal lines typically present at a 3-way junction.
Compose benching extends the planning capabilities of the Compose platform to achieve a more open plan application in addition to traditional workstations..
The new wood full profile trim and full monolithic wood tiles provide maximum performance. The wood trim can span multiple panels and integrate seamlessly. Monolithic wood tiles help make Compose a wood system solution. Compose offers beautiful wood options to meet an array of design needs.
New Product Features:
Glass Topper - With a gesture towards space division and privacy, a new frameless glass topper was designed to help establish boundaries in teaming applications.
Worksurface Knife Edge - A slim, attractive knife edge worksurface almost floats within workstations. Offered in a variety of laminates and wood grains.
29" High Panel - New 29" high panel offers power routing and access below the worksurface.
Tiles - To accommodate the new 29" high panels, 19" and 27" high tiles will be available to outfit the frame as well as spanning tiles.
Wood full profile trim and wood tiles.