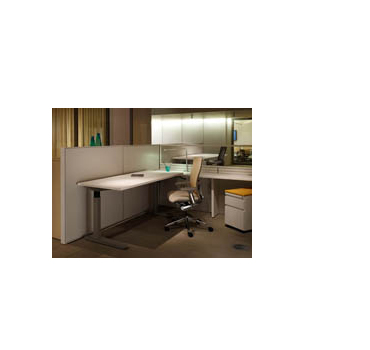 Planes height adjustable tables offer clean design, best-in-class ergonomics and an array of color choices on the broadest selection of adjustment mechanisms. The shared aesthetic meets user and application needs and, although specifically designed to coordinate with Haworth's recent developments in architectural interiors, the clean, modern design of Planes height adjustable tables blend well with all product settings and spaces.
Designer: Haworth Design Studio
Planes HAT includes six mechanisms, including incremental, crank, torsion and three ranges of electric. There are sit-sit and sit-to-stand height ranges, from 22"-35" incremental to 22"-48" dual-stage electric. These mechanisms meet ANSI/HFES 100-2007 for height range and knee-space clearance. This new product was designed specifically for the most current ergonomic standards. But more importantly, are available to be designed for specific human needs such as low back pain.
The platform design of Planes height adjustable tables offers functional scalability while maintaining visual consistency. The worktops are available in laminate or veneer and standard or green core. The bases are available in all standard Haworth paint colors.