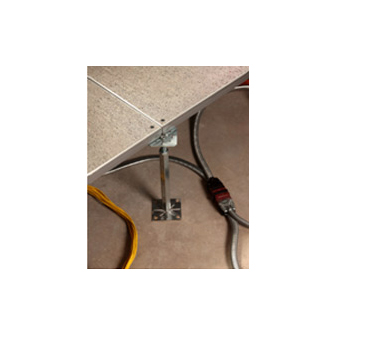 With refined design, universal applicability, a proprietary concrete and steel composite structure and 58% recycled content, TecCrete builds on 25 years as the access floor that doesn't feel or look like one.
The new, refined exposed concrete surface offers a unique aesthetic that is beautiful enough to leave bare. TecCrete can also be covered with modular carpet, laminate, vinyl, rubber or almost anything. TecCrete creates some unique visual opportunities, including use in planter boxes, reflecting pools or stained to form floor patterns.
Designer: Haworth Design Studio & Engineering Team
Bare or covered, TecCrete can now be used throughout the entire facility, providing a single access floor platform for work and learning environments, as well as computer and utility environments. It has been redesigned to meet the varying loading and finish requirements. For example, entryway panels can be stained and sealed, main office can be covered in carpet and computer room can be covered in static dissipative laminate or vinyl.